Before completing your order, please take a moment to review information about potential delivery delays.
Due to closures, travel restrictions, and prioritization of vital services, some parcel deliveries may experience delays. Please check with your carrier of choice to verify your location can receive deliveries. In some instances, some deliveries may no longer be possible.
Read More.
Poetry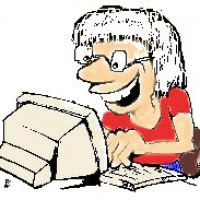 Larika
Bibliophile
It's such a shame that poetry books are hard to sell. Poetry is one of the most underutilized and underestimated art forms in modern culture.There is a magic in poetry . A poet can create a metaphor that rouses our senses and shines a light into the dark corners of our hearts. Poets try to reach out to people. They want to communicate a feeling or an idea and they do it in a unique way. For my 21st Birthday I was asked what I'd like as a Birthday gift. Immediately I responded "The poems of T.S.Elliot, please."  I am selective about the poetry books I buy or borrow from the library. However I don't just focus on the great poets. At the moment I'm reading a poetry book which contains a selection of poetry written by modern poets. We have in our writing  group a gentleman who was short-listed to be Poet Laureate of Lincolnshire. (He just missed out!) I have bought several of his books. I love poetry. I only wish I could write it!
Tagged: