Before completing your order, please take a moment to review information about potential delivery delays.
Due to closures, travel restrictions, and prioritization of vital services, some parcel deliveries may experience delays. Please check with your carrier of choice to verify your location can receive deliveries. In some instances, some deliveries may no longer be possible.
Read More.
A bit of one of mine.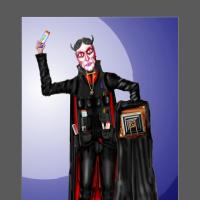 Just Kevin
Lulu Genius
 Currently up to 271,000 words, and growing. I will paste some of the start in here, but I may ignore all that's said about it. 
... screaming dislodged bodies' hands lose grip on the backs of seats and begin to fall forward in disarray towards demanding gravity. Some lucky ones who had not fully risen in shock, voluntarily or otherwise, from their seats, lean on the now increasingly horizontal backs of the seats before them, trying to brace themselves against the increasing verticalness, looking down in horror to the front of the leading carriage Lilium, Junal and Kinli are also in. Thankfully the seats themselves had been well bolted to the floor so had not come adrift even with the accumulatively growing extra weight now on the back of them in a manner they were not designed for. Not become dislodged, yet.
Unfortunately, random untethered luggage, including weapons, from above and below seats, and from laps and even hands, right to the back of all the passenger compartments, which have no doors between the sections, has begun to join the falling and sliding bodies to make its combined chaotic way forward disregarding any obstacles in its tumbling path, adding to the falling men, women and children, babies, and random panicking small creatures, some in small cages, all trying to gain a grip on something, anything, to slow their fall, including grabbing on to each other and on to those still screamingly cringing on seat backs as if they are shelves.
Starting at the front, the combined cacophonic weight mingling together now begins to rip the seats from the floor with metallic screeches, creating bench and humanoid sandwiches, the pings of bolt-heads finally giving up on their uncreated for stress. Those bolt-heads and their washers adding to the shrapnel like shots as if from catapults.
Perhaps unsurprisingly, by now the warped and bent remains of the broken end of the bridge has slowed down the train with friction alone as the Steamtube train's wheels leave the guide channels, before it had totally gone in to free-fall, to now around forty mph. But not the people and luggage within it who are still in motion at the train's original speed. Those in the forward compartment can be seen by Junal, Lilium and Kinli still cascading down at over fifty mph and accelerating towards the already broken driver's compartment's rear windows. The driver broken, also, because right now he is creating an exit through the compartment's tough small-paned blood-splattered windscreen and its frame with his unprotected bare head.
Amongst the many tones of wailing and crying and praying, twangs of metal still stressed and breaking, unattached objects banging and crunching as they bounce off heads, backs and each other, and all becoming patterned with blood, no one giving any regard to anyone else apart from mothers still attempting to hang on to or grab their children and babies, some whom are already dead, a small voice may have been audible exclaiming in shock.
"Gar!" shouts Lilium. "Why do these things keep happening to me?!"