Before completing your order, please take a moment to review information about potential delivery delays.
Due to closures, travel restrictions, and prioritization of vital services, some parcel deliveries may experience delays. Please check with your carrier of choice to verify your location can receive deliveries. In some instances, some deliveries may no longer be possible.
Read More.
Which book cover artist/s do you like?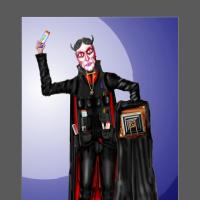 Just Kevin
Lulu Genius
I wondered about this after watching a documentary about the late great Terry Pratchett, and an artist by the name of Paul Kidby was included. He did a lot of the art for Terry, but what I like most about Paul is he does art based on Terry's stories even if they are never used in the stories or for Terry's covers. He just does it for fun! At times cover artists are never even credited so it's not always easy to find out who did what, thankfully Paul is. One interesting point is that Paul often read Terry's works while they were being written and would paint his idea of what the characters etc looked like as Terry worked on them, and Terry liked the art so much he would add to or change the descriptions in his books.
http://www.paulkidby.com/paintings/
I like Chris Foss also.
Tim White.
http://www.angelfire.com/realm/anthrax/tim.html
And others.
You may notice a pattern with even just those? Apart from them being exceptionally skilled artists, most of what they do is 99% imagination with little to base what they paint on.