Help definitely needed here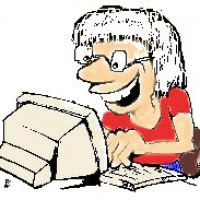 Larika
Bibliophile
I have revised my book cover of my novel "The Pig Child" but on re-reading the book I realise that I must revise the whole book. There is far too much "telling" and not enough "showing." To some people this concept comes easily but I struggle with it. How should I have written this scene?


It was a Thursday and Patsy decided to visit the Central library. She took the bus there and spent several hours doing some research for her studies. However it was winter and suddenly she realized that it was getting very late. So she packed away her books and walked to the bus stop. The bus didn't come for over half an hour so when she finally got to her destination it was very dark. As chance would have it, as she got off the bus she saw Damien Brown coming towards her. Swiftly she crossed the road and walked quickly towards her hall of residence. However she heard hurried footsteps behind her. Suddenly the young girl felt a hand over her mouth and strong arms dragged her into a little side street. Then Brown violently raped her. "That'll teach you a lesson Piggy Wiggy," he sneered as he stood over her. With that he turned and fled.
    Patsy lay on the ground. She was trembling and overcome by fear and grief. Blood was trickling down her leg. This evil man had violated her and she felt dirty. Crying silently she got up and walked back swiftly to her room and locked the door. Then she got undressed and jumped into the shower. The young woman scrubbed and scrubbed herself until her skin was red and raw. By now her tears were flowing freely and she threw herself onto her bed.