We're aware of an issue with converting some DOC, DOCX, ODT, and RTF files to EPUB through our Ebook Wizard.

At this time, we're investigating the problem and looking for a solution.

If you've encountered this issue while converting your file, we suggest attempting to create and upload an EPUB directly to our system.

While there are a number of EPUB conversion options, Calibre (Download Here) has shown the best results for creating an EPUB for the Lulu system. Please review their extensive Help resources (Found Here) to create an EPUB 2 that our system can validate.

We've also created this Forum Thread. Post questions here and we'll do our best to respond and assist.
Where do I go to check my eBook with EPUBCheck 4.0.2 ?
Hello everyone,
I am trying desperately to get my comic book
Yardville
to be ISBN "certified" or whatever so I can sell it on iBooks, the Nook and those other places outside of Lulu. Problem is when I went to download the latest version of EPUBCheck 4.0.2 I could not use it. Here is a screenshot of the message I got: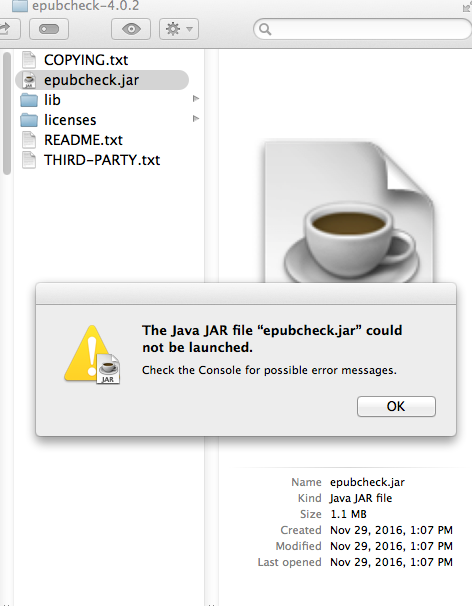 I'm not about to check "Console" for anything since I am not knowledgeable of what that even is. So what do I do to get a ISBN number so my EPUB comic file can be approved? (Sorry, this is my first publishing and I'm just trying to get my work out to as many as I can, like others.)
Thanks for any and all help!
Mal